❮
Roland Svanidze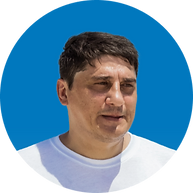 BIO:
Date of Birth: 1st. November 1977
Age: 44
Graduation of the HC " Novokuznetsk " (school of Olympic reserve) Family status: married Children: 3 (19 years)
EDUCATION:
Foundation Degree in teaching of physical culture and sport. Diploma in Novokuznetsk State Pedagogical Institute. The Faculty of Physical Culture and Sport, Hockey coach. Russia.
University Higher School of Coaches "Professional Sports and Training System highly qualified athletes in hockey, Russia. Omsk.
HOCKEY PLAYING EXPERIENCE:
Emirates Sports Academy, Head Coach from 2022 present
IHC "DINAMO TBILISI" Head Coach, from 2018-2022
National Team of Georgia, Head Coach, from 2017-2022
UAE, DUBAI, EMAAR, Head Coach, Ice Hockey School – Ice Rink from 2016-2018
AWARD/ HONOR:
"CHALLENGE CUP 2016" DUBAI, UAE – BEST FORWARD (2016) Star Match Member
"45th ANNIVERSARY SUPER SERIES 72" CANADA-USSR 2017 Star Match Member
"EHL ALL STARS", UAE (2017)
"KHARLAMOV CUP 2018" DUBAI, UAE – BEST FORWARD (2018)
INTERNATIONAL:
IIHF, Champion of World Championship lll Division, Head Coach (2018)
IIHF, World Championship ll Division, 4th place, Head Coach (2019)
IIHF, World Championship ll Division, 2nd place, Silver Medal, Head Coach (2022)
HOCKEY ADMINISTRATIVE SKILLS:
Competitor game analysis.
Player advanced scouting.
Hockey analytics.
In – game, post –game plan preparation. • Power play and Penalty kill strategies.
Development coach.
D-man development coach.
Pre –season, in-season, post-season plan preparatio